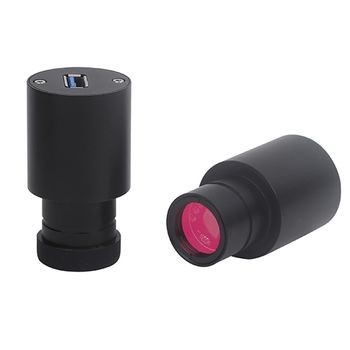 ToupTek S3CMOS 5 MP USB 3.0 CMOS Camera for 23.2mm Microscope Eyepiece Tube
AVC Emporium
- Provides a video output from microscopes without a separate camera port - Auto white balance and auto-exposure - Brightness, contrast, chroma, and saturation can be adjusted - High-speed USB3.0 interface and high frame rate video display keep the screen smooth without interruption - Includes advanced video & image processing application ToupView - Custom programmable with SDK provided - Adapters for larger eyepiece tube diameters are available

*Manufacturer's specifications subject to change without notice.
---

AVC Emporium/Alternative Vision Corporation has been for over 15 years a distributor of high-performance imaging components and equipment to OEMs and systems integrators. Our current product lines include stock and custom monochrome and color cameras, User-programmable FPGA smart cameras, visible/NIR/SWIR multispectral cameras, vision processors, stock and custom CMOS visible/NIR, color and LWIR image sensors, manual and motorized NIR/SWIR/MWIR/LWIR lenses, laser optics, finite-conjugate optics, optical and imaging system design services, CameraLink, USB 3.0 and GigE camera cables and a selection of unique optical components.
View Products
Company Website