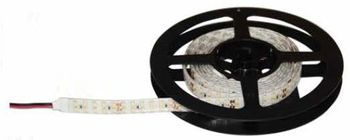 LED Flexible Lighting Strip, IP20, CRI 90 White, 240 Type 3528 LEDs per meter, 24 volt, 2 rows, 5-meter reel
AVC Emporium
Ledyi light strips are built for use in scientific, architectural and industrial applications. The flexible PC strips are designed to power the LEDs efficiently and evenly while providing easy methods for separation into short sections by the user. All LEDYI strips carry a 50,000-hour operating guarantee and a three-year limited warranty on workmanship. All Ledyi strips are produced to be compliant with RoHS environmental requirements, the electrical safety requirement for low-voltage lighting of UL, CE and CSA and the quality system requirements of ISO9000:2000.
*Manufacturer's specifications subject to change without notice.
---

AVC Emporium/Alternative Vision Corporation has been for over 15 years a distributor of high-performance imaging components and equipment to OEMs and systems integrators. Our current product lines include stock and custom monochrome and color cameras, User-programmable FPGA smart cameras, visible/NIR/SWIR multispectral cameras, vision processors, stock and custom CMOS visible/NIR, color and LWIR image sensors, manual and motorized NIR/SWIR/MWIR/LWIR lenses, laser optics, finite-conjugate optics, optical and imaging system design services, CameraLink, USB 3.0 and GigE camera cables and a selection of unique optical components.
View Products
Company Website