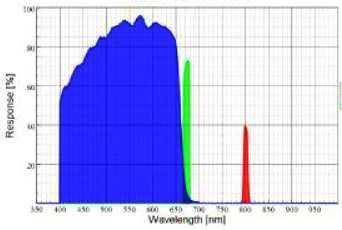 Quest Innovations Multispectral Camera for UAV Installation with RGB and Two NIR channels
AVC Emporium
The UAV cam­era has various applications: - Precision agriculture with NDVI filteringoption - Environmental mapping - Marine pollution detection - Pipeline and pow­er­line sur­veil­lance - Forestry conservation - Fire detection - Security and surveillance Features SD card storage and USB external control, 350 grams with lens

*Manufacturer's specifications subject to change without notice.
---

AVC Emporium/Alternative Vision Corporation has been for over 15 years a distributor of high-performance imaging components and equipment to OEMs and systems integrators. Our current product lines include stock and custom monochrome and color cameras, User-programmable FPGA smart cameras, visible/NIR/SWIR multispectral cameras, vision processors, stock and custom CMOS visible/NIR, color and LWIR image sensors, manual and motorized NIR/SWIR/MWIR/LWIR lenses, laser optics, finite-conjugate optics, optical and imaging system design services, CameraLink, USB 3.0 and GigE camera cables and a selection of unique optical components.
View Products
Company Website