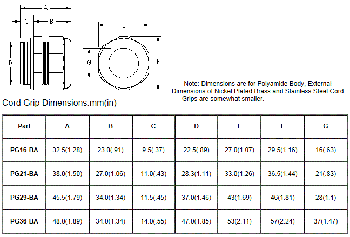 APG Sealed, Split Gland Cord Grip Assembly - Four Sizes, Plastic or Metal Construction
AVC Emporium
- No need to remove and reinstall connectors from cables for installation - No need to preinstall bulkhead feedthroughs - Creates a liquid tight seal around cables - Protection Rating: IP67; NEMA 4X If Cable Diameter = Insert Hole Diameter - Protection Rating: IP65; NEMA 3 If Cable Diameter is up to 10% less than Insert Hole Diameter - Body available in Polyamide, Nickel Plated Brass or 316 Stainless Steel - Sealing washer available in polyethylene, Viton, BUNA-N, or silicone

*Manufacturer's specifications subject to change without notice.
---

AVC Emporium/Alternative Vision Corporation has been for over 15 years a distributor of high-performance imaging components and equipment to OEMs and systems integrators. Our current product lines include stock and custom monochrome and color cameras, User-programmable FPGA smart cameras, visible/NIR/SWIR multispectral cameras, vision processors, stock and custom CMOS visible/NIR, color and LWIR image sensors, manual and motorized NIR/SWIR/MWIR/LWIR lenses, laser optics, finite-conjugate optics, optical and imaging system design services, CameraLink, USB 3.0 and GigE camera cables and a selection of unique optical components.
View Products
Company Website