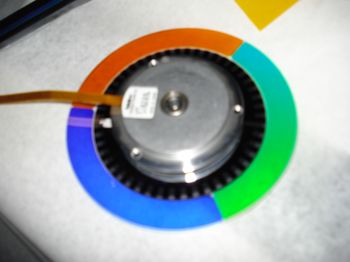 TFP All-Glass Dichroic Filter Wheel Assemblies
AVC Emporium
Thin Film Physics has been designing and supplying all-glass filter wheels for over 30 years. These wheels are made fron dishroic filters manufactured and cut by TFP or from color glass from various reliable sources cut and polished for proper thickness and flatness. TFP prepares the filter segments to assure that as the filter rotates consistent image location and focus is maintained even at high rotation rates. The sengments are edge-bonded without additional spacing materials and cured for long-term stability. The finished wheels can be supplied alone or with mechanical support, hubs, motors ans housings to meet customer requirements.

*Manufacturer's specifications subject to change without notice.
---

AVC Emporium/Alternative Vision Corporation has been for over 15 years a distributor of high-performance imaging components and equipment to OEMs and systems integrators. Our current product lines include stock and custom monochrome and color cameras, User-programmable FPGA smart cameras, visible/NIR/SWIR multispectral cameras, vision processors, stock and custom CMOS visible/NIR, color and LWIR image sensors, manual and motorized NIR/SWIR/MWIR/LWIR lenses, laser optics, finite-conjugate optics, optical and imaging system design services, CameraLink, USB 3.0 and GigE camera cables and a selection of unique optical components.
View Products
Company Website