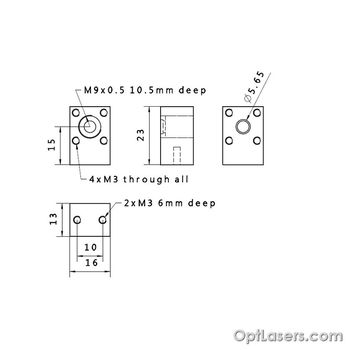 Opt Lasers TO-18 brass Laser Diode Housing Mount
Opt Lasers, a brand ofTomorrow's System Sp. z o.o.
TO-18 laser diode housing made of brass. The M9x0,5 hole for collimator is provided. "Cross" shape PCB at the back of the housing allows you to solder the diode pins in order to prevent them from breaking after soldering the wires. It also helps to fast solder the diode without thermal shrinking tube. Engraved cross at the back of the housing helps to put the diode in proper position (horizontal or vertical) with high accuracy.

*Manufacturer's specifications subject to change without notice.
---

We offer laser solutions in various fields. From disco lasers, by infrared illuminator for the cameras to cutting and engraving lasers. We offer a wide selection of laser diodes, laser modules and laser components. As far as possible we will try to expand our offer with the new items.
View Products
Company Website