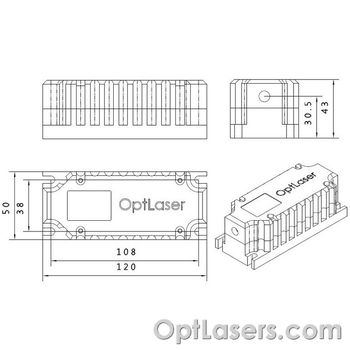 Opt Lasers G520-1000SM 1000 mW 520nm Green Laser Module
Opt Lasers, a brand ofTomorrow's System Sp. z o.o.
Microcontroller driving the laser module is responsible both for soft start of the laser diode and the regulation of temperature by using a thermocouple. In addition, in the event when adequate heat dissipation of the module is not ensured, the system protects the diode from overheating, and when the temperature of the diode exceeds 40 degrees Celsius, it prevents further current flow through the diode and goes into alarm mode.

*Manufacturer's specifications subject to change without notice.
---

We offer laser solutions in various fields. From disco lasers, by infrared illuminator for the cameras to cutting and engraving lasers. We offer a wide selection of laser diodes, laser modules and laser components. As far as possible we will try to expand our offer with the new items.
View Products
Company Website