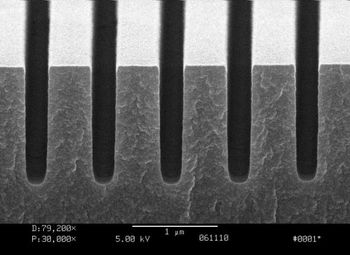 High Efficiency Transmission Gratings
Holographix LLC
Holographix offers customers a turnkey solution to their grating-based optical system needs, from custom diffraction grating mastering to the manufacture of production replica diffraction gratings and opto-mechanical assemblies. Diffraction Grating Solutions Include: - Transmission gratings - Reflection gratings - High diffraction efficiency gratings - Beam splitters - Low polarization dependent loss gratings - Gratings on curved surfaces - Gratings fabricated on a variety of different types of substrates including glass, metals, and plastics Applications Include: - Spectroscopy - Beam splitting - Metrology - Telecom - Drug discovery - Beam scanning

*Manufacturer's specifications subject to change without notice.
---

Holographix LLC is the industry leader in nano- and micro-replication. Our proprietary replication technology enables us to produce state-of-the-art structured surfaces and optical devices that are used in a wide array of industries including spectroscopy, life sciences, semiconductor, aerospace, defense, display, telecommunication, metrology, and precision measurement. With a company-wide emphasis on quality, Holographix maintains a rigorous and ISO 9001:2008 certified Quality Assurance program.
View Products
Company Website