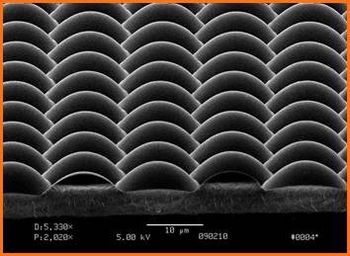 Custom Microlens Array Manufacturing
Holographix LLC
Microlens arrays are increasingly becoming an integral part of state-of-the-art optical systems for numerous applications, including medical laser systems, light-field photography, and Heads-Up Displays (HUD). At Holographix, we custom design and produce cost-effective, high-quality microlens arrays to customer specifications. Holographix routinely manufactures complex diffractive and aspheric microlens arrays with submicron tolerances in a variety of shapes and packing configurations. To allow our customers to evaluate our capabilities, sample Microlens Arrays (MLAs) are now available for purchase on our website.

*Manufacturer's specifications subject to change without notice.
---

Holographix LLC is the industry leader in nano- and micro-replication. Our proprietary replication technology enables us to produce state-of-the-art structured surfaces and optical devices that are used in a wide array of industries including spectroscopy, life sciences, semiconductor, aerospace, defense, display, telecommunication, metrology, and precision measurement. With a company-wide emphasis on quality, Holographix maintains a rigorous and ISO 9001:2008 certified Quality Assurance program.
View Products
Company Website