FGC Optical Fiber Geometry Measurement System
Arden Photonics LTD
Arden Photonics is pleased to announce the introduction of the FGC range of optical fiber geometry measurement equipment. The FGC range provides high speed automated measurement of fiber end-face geometry including core diameter, core non-circularity, cladding diameter, cladding non-circularity and core-to-cladding concentricity. Options are available for measuring large diameter fibers (up to 1mm diameter) and specialty fibers such as double-clad, non-circular (e.g. octagonal), multicore and PM fibers. Side-view coating options are also available. Complete measurement takes under 20 seconds. Specially designed holders, fiber handling bench and traceable calibration ensure repeatability of < 0.05µm on core and cladding diameters.

*Manufacturer's specifications subject to change without notice.
---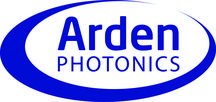 Arden Photonics Ltd was founded in 2001 with the aim of developing, manufacturing and selling innovative products for the photonics industry in the UK and throughout the world. We also provide technical and marketing consultancy in the areas of optical fibre technology and optical metrology.
View Products
Company Website