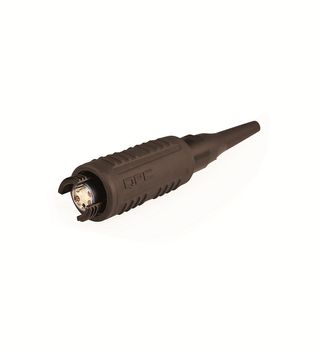 Qmini Expanded Beam Connector
QPC Fiber Optic
The QPC Qmini Expanded Beam Fiber Optic Connector has been designed to the requirements of MIL-PRF-83526. The hermaphroditic design allows assemblies to be daisy chained together without adapters, allowing for flexibility in system design. The expanded beam connector uses a spherical lens to collimate the signal at many times the original diameter. This technology makes the connector very resistant to shock and environmental issues, minimizing the effects of dust, debris and mechanical vibration. Because the fiber system is non-contact, the connector life is in excess of 3,000 mating cycles, providing a high quality, rugged environment solution.

*Manufacturer's specifications subject to change without notice.
---

QPC is a woman-owned small business located in San Clemente, California offering custom-engineered fiber optic solutions for challenging environments. Since its founding in May 1999, QPC has been a leader in providing the highest quality fiber optic products and services to businesses and organizations worldwide. QPC designs and manufactures a wide range of custom fiber optic connectors, cable assemblies, hardware and custom fiber optic solutions for challenging environments. QPC is focused on applications for the military, aerospace, broadcast, energy, medical, and many other harsh environment industries.
View Products
Company Website