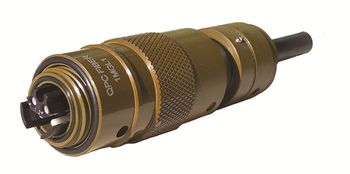 QFOCA Enhanced Hermaphroditic Connector
QPC Fiber Optic
The QFOCA Enhanced Hermaphroditic Tactical Connector is the second generation of the TFOCA* connector and is based on the MIL-C-83526/16 specification. QPC's connector design enhances the optical, mechanical, environmental and functional performance to meet today's demanding system requirements. New features include an optical interface with four standard 2.5mm ferrules. The front insert can be easily removed for field maintenance and cleaning. The ruggedized hermaphroditic design makes this connector ideal for field-deployable systems for Singlemode or Multimode applications

*Manufacturer's specifications subject to change without notice.
---

QPC is a woman-owned small business located in San Clemente, California offering custom-engineered fiber optic solutions for challenging environments. Since its founding in May 1999, QPC has been a leader in providing the highest quality fiber optic products and services to businesses and organizations worldwide. QPC designs and manufactures a wide range of custom fiber optic connectors, cable assemblies, hardware and custom fiber optic solutions for challenging environments. QPC is focused on applications for the military, aerospace, broadcast, energy, medical, and many other harsh environment industries.
View Products
Company Website