PolarCam Snapshot Micropolarizer Cameras
4D Technology Corporation
PolarCam™ Snapshot Micropolarizer Cameras capture images of multiple polarized angles from each video frame, enabling a range of image enhancement techniques and polarimetric measurements. Small, fast and field-proven, PolarCams suppress or boost data content without image blur, for applications in image enhancement, polarimetry, birefringence measurement, 3D shape, remote sensing, defect detection, and machine vision. Proprietary micropolarizer technology enables broad spectral response, wide angular bandwidth and high extinction ratio. The micropolarizer array is bonded directly to the sensor and includes no moving parts. Optional PolarView software provides real-time display and calculation of DoLP, AoLP, linear Stokes parameters and more.

*Manufacturer's specifications subject to change without notice.
---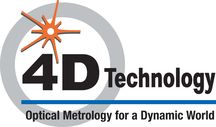 4D Technology designs and manufactures laser interferometers, surface roughness profilers, surface gauges and polarization cameras, for accurate measurement of precision surfaces and optical components.
View Products
Company Website