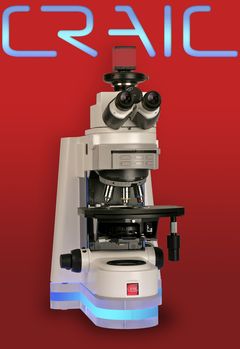 UVM-1 UV-Visible-NIR Microscope
CRAIC Technologies
The UVM-1™ is a UV microscope that also can image in the visible and NIR. This UV-visible-NIR microscope embodies both advanced optics for cutting edge UV, color and NIR imaging and visualization. The system is a flexible design, very easy to use and very durable. It is designed with cutting edge CRAIC optics for the highest image quality and to give years of service.

*Manufacturer's specifications subject to change without notice.
---
CRAIC Technologies™ specializes in developing UV-visible-NIR microanalysis solutions: we build instruments to collect spectra and images of sample features ranging from sub-micron to meters across. CRAIC Technologies™ products include UV-visible-NIR microspectrophotometers, Raman microspectrometers, UV and NIR microscopes, instruments and software to measure thin film thickness and colorimetry on the microscopic scale, automation solutions, traceable standards and more. Applications are numerous: research in materials science, chemistry, physics, forensic science, semiconductors, quality control of optics and flat panel displays, vitrinite coal testing, protein crystals, and vision research are just a few of the many fields with whom we work.
View Products
Company Website