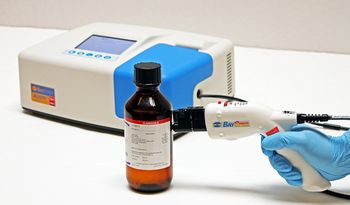 Transportable Dual-band Benchtop Raman Spectrometer
AMS Technologies AG
Available in 532, 785, and 1064 nm with single or dual band options. An integrated sample compartment allows the utmost flexibility, via its quick-change, auto-aligning sample holders.BaySpec's 3rd generation Agility delivers highly repeatable and sensitive results in a sleek, transportable, battery-operated package. With available Quick-Change Sample options, a variety of sample types can be accommodated either within the Agility™ sample chamber or externally, via a fiber probe. The base unit comprises laser(s), spectrometer(s), onboard touch-screen computer, and base unit with supplied side-looking sample holder for vials, cuvettes, or pills.

*Manufacturer's specifications subject to change without notice.
---
AMS Technologies is Europe's leading solution provider and distributor for Optical, Power and Thermal Management Technologies. Optical Technologies is our key competency field with the broadest and most widely varying product offering, ranging from optical components and systems for the most differing of applications, over cameras for machine vision and on to capital equipment for fiber optic applications. Our pan-European customers are serviced from a network of local offices in Germany, the UK, France, Italy, Spain, Poland and Sweden, with a focused operations and logistics centre located in Munich, Germany.
View Products
Company Website