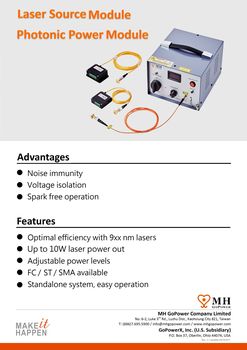 LSM Series Laser System
MH GoPower Company Limited
MHGP's LSM series laser systems provide customers with a simple, turn-key solution to get started with PoF. The systems include a laser source module (LSM) with a fiber patch cord to be connected to MHGP's photovoltaic power converters (PPC). The laser source generates the laser power which is transmitted through the fiber patch cord to the PPC. MHGP's patent pending PPC converts the laser power back to electricity. - 976 nm laser source - Up to 10W laser power out - Adjustable power levels - 2 meter fiber patch cord - FC / ST connector available - Standalone system and easy operation

*Manufacturer's specifications subject to change without notice.
---
MH GoPower Company Limited (MHGP) is an innovator and manufacturer of high performance Si-based Vertical Multi-Junction PV cells that enable laser power transmission for power over fiber (PoF) and power beaming applications using 9xx nm lasers. MHGP recently released a line of photovoltaic receivers with unparalleled flexibility in size, voltage, and power that is fueling the emergence of new high reliability, high power, and low cost PoF applications.
View Products
Company Website