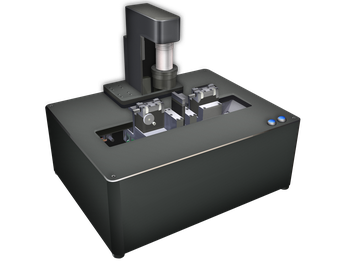 GPX-3000
Vytran
GPX-3000 splicers offer a unique multipurpose glass processing platform for creating splices, combiners, tapers, couplers, end-caps, and other processes with fibers from 125 microns to 1.8 mm in diameter. All GPX systems utilize True Core Imaging® for accurate inner-core alignment and splice loss calculation. End-View Imaging™ allows automated alignment of polarization maintaining (PM) fibers, non-circular cladding or micro-structured cores, and dissimilar fibers. The system enables exceptional fiber processing needed for long tapers, thermal core expansion, and mode fields adapting. Advanced software merges vision-based alignment, an intuitive GUI, and application database capabilities to enable fast and flexible process development.
*Manufacturer's specifications subject to change without notice.
---

Vytran was founded in 1989 to develop and manufacture new technologies for optical fiber fusion splicing. Today, we are a leader in reliable, precision equipment for splicing, assembly and glass processing in custom fabrication and high-volume manufacture applications. Vytran is headquartered in Morganville, New Jersey, and has customer support centers in Exeter, UK; and Hangzhou, China. The company is owned by Denmark-based NKT and is a member of the NKT Photonics Group, a complementary set of companies with technological foundation in fiber-based opto-technology, semiconductor technology and micro-technology.
View Products
Company Website