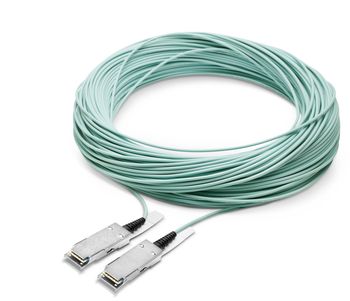 Fiberon Technologies Inc.
Fiberon Technologies Inc.
The QSFP+AOC offers 4 independent data transmission channels and 4 data receiving channels via the multiple optical fibers, each capable of 10Gbps operation. Consequently, an aggregate data rate of 40Gbps over 100 meters transmission can be achieved by this product, to support the ultra-fast computing data exchange. Fiberon QSFP+AOC are designed to be fully compatible in form factor and optical/electrical connection according to the QSFP+Multi- Source Agreement.

*Manufacturer's specifications subject to change without notice.
---

Every day at Fiberon, we strive to set the pace of active and passive fiber optic innovation. Our customers are at the center of our focus and through a commitment to integrity in all of our dealings we have developed strong bonds with all of our greatly valued partners. As such, providing them with un-paralleled design, manufacturing, and quality control systems to ensure that our products are available at a competitive price, expedited delivery, and with the quality that separate us from our competitors in the Telecom, Datacom, Premise wiring, FTTH, and CATV Industries.
View Products
Company Website