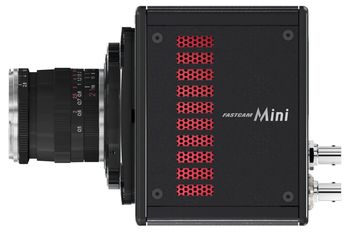 FASTCAM Mini AX family
Photron
At 6,400 frames per second (fps) at full one megapixel resolution, and 900,000 fps at reduced resolution, the FASTCAM Mini AX200 is the top of the range from the Mini AX family, all providing the industry's most light sensitive CMOS sensor with the square 20µm pixels providing ISO 12232 Ssat qualified ISO 40,000 for the monochrome versions and ISO 16,000 for the 36-bit color version. Connecting to your laptop via a standard Gigabit Ethernet connection, the Mini AX 200 provides incredible stopping power through an easy to use interface and is available with up to 32GB of onboard memory.
*Manufacturer's specifications subject to change without notice.
---
Photron provides high-speed cameras for slow motion analysis of events that occur too fast for the eye to see. Our cameras can record at speeds ranging from 60 up to over two million frames per second (fps), and range from low cost mega-pixel Mini cameras, high-G rated multi-head systems for on and off board slow motion analysis of every aspect of vehicle and passenger safety and component testing, though to the industry's most light sensitive high-speed motion analyzers. Applications include ballistics, automotive safety, life sciences, fluidics, materials testing and many, many more.
View Products
Company Website