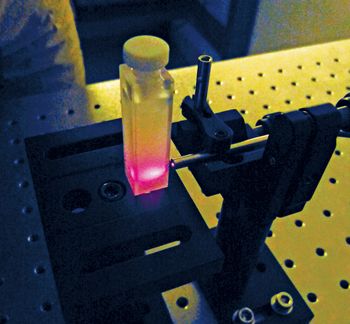 Compact Raman probe
FiberTech Optica
FTO's design features: high collection efficiency (f/2) optics, internal filtering (bandpass filter for the laser and long pass filter for collected signal), about 4 mm working distance, and rugged assembly with no moving parts. The probes are packaged in a steel tube about 4 mm in diameter, with even smaller designs to be available shortly. Our design allows for almost real-time collection of data from solid and liquid samples.

*Manufacturer's specifications subject to change without notice.
---

For 15 years, Fibertech Optica designs and manufactures complete fiber optic solutions consisting of specialty fibers with capabilities to integrate filters and micro-optics. Our custom assemblies have made our reputation: Patchcords, round-to-line converters, bundles, reflectance probes, OCT probes, linear and spaced v-groove arrays and high power laser cables. Fiber optic components include: Vacuum feedthroughs, custom collimators and fiber coupled light source.  Prototype development and engineering include: Optical modeling, opto-mechanical design and assemblies and prototype assemblies. Spectral bands coverage from deep UV to MIR (190-5500nm).
View Products
Company Website