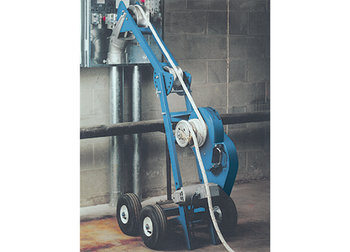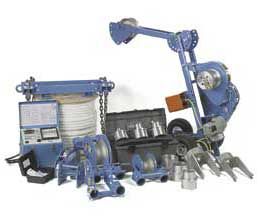 Cable Pullers
Mohawk Ltd
Mohawk LTD offers the Condux CableGlider Cable Pullers. The CableGlider STD cable puller offers portability and ease of set up in a completely self-contained unit to adapt to a variety of pulling situations. It comes equipped with a two-speed removable power pack, providng up to 6,500 pounds (28,912 N) of pulling force at low speed. Accepts all diameter rope (self-tailing capstan accepts 5/8" (16 mm) to 7/8" (22mm) rope only). CableGlider STD includes the following items: - Puller - Foot Switch - Retaining Fork - Tool Box for accessories - Adapters - 2" (51mm), 3" (76mm), 3 1/2" (89 mm), 4" (102 mm)

*Manufacturer's specifications subject to change without notice.
---

Mohawk Ltd. is a woman-owned business in upstate New York that specializes in the supply, repair and calibration of fiber optic test and measurement equipment. Founded in 1959, Mohawk Ltd. has been a leader in providing the highest quality fiber optic products and services nationwide. In addition we supply custom trailers and fiber reels. Mohawk Ltd is an ISO 9001-2008 and WBE Certified company that provides superior quality, fast turnarounds, competitive pricing with many solutions. No fee evaluations.
View Products
Company Website