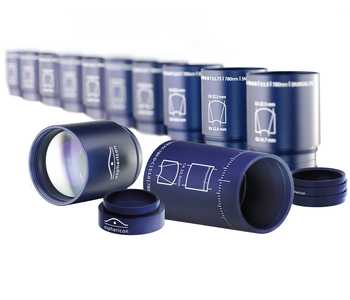 BeamTuning
asphericon GmbH
asphericon BeamTuning means beam expansion and beam shaping at the highest level. Therefore, we developed a comprehensive range of laser beam processing elements. Discover the world's fi rst aspheric and diff raction-limited beam expansion system as well as some brand new beam shaping components. With an intelligent mounting concept, no adjustment is needed and the individual elements can be combined according to your requirements, e.g. in the fi eld of metrology and laser material processing: a|BeamExpander a|Waveλdapt a|AspheriColl a|Adapters a|AiryShape a|TopShape

*Manufacturer's specifications subject to change without notice.
---
As an independent and recognized specialist, asphericon is among the technological leaders in the field of asphere manufacture. The basis for manufacture is a specially developed and patented technology to control CNC grinding and polishing machines. Using this globally unique equipment, small runs right through to large series can be manufactured with high precision. asphericon assists its customers from the initial optic design, via manufacturing and coating, full-surface interferometric measuring and documentation, through to the assembly of optical modules and their optical characterization.
View Products
Company Website