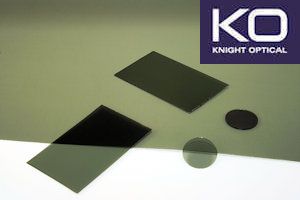 Stoxk of UV and IR sheet polarizers HN38S in 50 x 50 or 100 x 100 sheets
Knight Optical (USA) LLC
Our UV and IR sheet polarizers extend the spectral range down to 290m for the HNP'B replacement material and HR is used between 800nm to 2000nm. We have extensive stock of HR material in 76.2mm square sheets. The range from 800-860 the HN7 type offers superior performance at a reduced price. Working below 800nm HN22 is an ideal choice. Knight Optical supply linear sheet type polarizers in a range of types. These sheet polarisers were formerly supplied by Polaroid/3M under the Vikuti brand. See data sheet

*Manufacturer's specifications subject to change without notice.
---
Knight Optical (USA) LLC is a global leader in the production and distribution of scientific optical components with a proven track record providing quality solutions to clients in the optics market. Our highly qualified and experienced workforce enables us to offer custom made solutions economically, in virtually any shape and size. Combining traditional methods with modern state-of-the-art systems and metrology equipment enables us to offer quality, competitiveness and prompt delivery schedules within 2 to 3 weeks from receipt of order.
View Products
Company Website