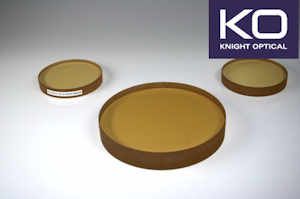 Knight Optical's Zerodur optical flats
Knight Optical (USA) LLC
This range of Zerodur optical flats are single-sided optical flats and dual faced optical flats. Zerodur is a yellowish glass ceramic developed by Schott glass. Zerodur has unmatched low thermal expansion properties and is very durable. Zerodur optical flats are also available in lambda/10 and lambda/20 types from stock. We can also supply lambda/4, lambda/8 and lamda/16 optical flats on short lead times. All optical flats are tested on our Zygo Verifire XPZ interferometer system fitted with the latest Mx® software. Optical flats are supplied certified in a quality wooden box.

*Manufacturer's specifications subject to change without notice.
---
Knight Optical (USA) LLC is a global leader in the production and distribution of scientific optical components with a proven track record providing quality solutions to clients in the optics market. Our highly qualified and experienced workforce enables us to offer custom made solutions economically, in virtually any shape and size. Combining traditional methods with modern state-of-the-art systems and metrology equipment enables us to offer quality, competitiveness and prompt delivery schedules within 2 to 3 weeks from receipt of order.
View Products
Company Website