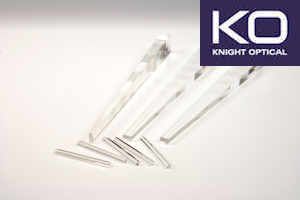 Knight Optical's Tapered Homogenizing Rods for IPL Applications
Knight Optical (USA) LLC
The Light source will enter a light pipe at a variety of incident angles, which is designed to utilise its total internal reflection to channel the light from the entrance of the light pipe to the exit. The material's refractive index is the only factor which affects the light pipes critical angle; this defines the angle of acceptance which the total internal reflection will occur at. All our Homogenizing Rods are fully inspected on their quality in our ISO 9001 certified, state-of-the-art Metrology laboratory

*Manufacturer's specifications subject to change without notice.
---
Knight Optical (USA) LLC is a global leader in the production and distribution of scientific optical components with a proven track record providing quality solutions to clients in the optics market. Our highly qualified and experienced workforce enables us to offer custom made solutions economically, in virtually any shape and size. Combining traditional methods with modern state-of-the-art systems and metrology equipment enables us to offer quality, competitiveness and prompt delivery schedules within 2 to 3 weeks from receipt of order.
View Products
Company Website