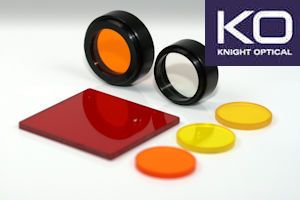 Knight Opticals' Stock and Custom Color Glass Type Longpass filters
Knight Optical (USA) LLC
Colour Glass filters are useful for selective wavelength absorption and therefore achieve high out of band blocking. Our long-pass stock range of color glass filters have uniform spectral transmission properties over their entire aperture. A wide range of Colour Glass Longpass Filters are available as 50x50mm and 25mm diameter filters, stocked in the options below. Stock colour glass filters are available to purchase directly from our website. To enquire about our customer colour glass capabilities, or to place a custom order, please contact our technical sales team.

*Manufacturer's specifications subject to change without notice.
---
Knight Optical (USA) LLC is a global leader in the production and distribution of scientific optical components with a proven track record providing quality solutions to clients in the optics market. Our highly qualified and experienced workforce enables us to offer custom made solutions economically, in virtually any shape and size. Combining traditional methods with modern state-of-the-art systems and metrology equipment enables us to offer quality, competitiveness and prompt delivery schedules within 2 to 3 weeks from receipt of order.
View Products
Company Website