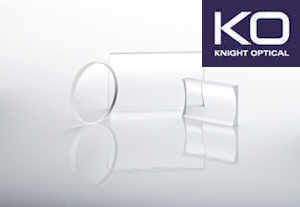 Knight Optical's Sapphire Cylindrical Lenses for Endoscopes
Knight Optical (USA) LLC
Cylindrical lenses are designed to focus light into a straight line, rather than to a single point. The lens surface has a cylindrical shape rather than the usual spherical which allows for one dimensional shaping of light along a line. Cylindrical lenses are often used to change the profile of laser beams, for example to correct for astigmatism & ellipticity in diode lasers or to generate lines from single mode lasers. Typical specs: Material: Sapphire Diameter Tolerance: +0/-0.25mm Centration: 0.25mm (F.L < 50mm) 5mrad (F.L > 50mm) Focal Length (@587mm): ± 2.0% Surface Quality: <60-40 Scratch/Dig Coatings: Coatings available

*Manufacturer's specifications subject to change without notice.
---
Knight Optical (USA) LLC is a global leader in the production and distribution of scientific optical components with a proven track record providing quality solutions to clients in the optics market. Our highly qualified and experienced workforce enables us to offer custom made solutions economically, in virtually any shape and size. Combining traditional methods with modern state-of-the-art systems and metrology equipment enables us to offer quality, competitiveness and prompt delivery schedules within 2 to 3 weeks from receipt of order.
View Products
Company Website