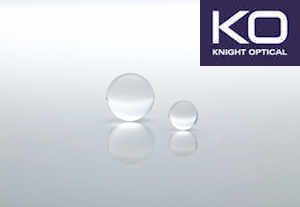 Knight Optical's Sapphire Ball Lenses for Fibre Optics
Knight Optical (USA) LLC
Sapphire is one of the hardest minerals & optical materials available for use in the range from UV up to 5µm. Making it ideal as a protective window for camera systems. The key feature of ball lenses is their short back focal length allowing for precision coupling where size or space is a limiting factor in the system. Ball lenses are typically used in pairs with one lens acting as a collimator for the second to focus the light back into the coupled fibre. Where a more compact solution is required a half-ball lens is typically more suitable.

*Manufacturer's specifications subject to change without notice.
---
Knight Optical (USA) LLC is a global leader in the production and distribution of scientific optical components with a proven track record providing quality solutions to clients in the optics market. Our highly qualified and experienced workforce enables us to offer custom made solutions economically, in virtually any shape and size. Combining traditional methods with modern state-of-the-art systems and metrology equipment enables us to offer quality, competitiveness and prompt delivery schedules within 2 to 3 weeks from receipt of order.
View Products
Company Website