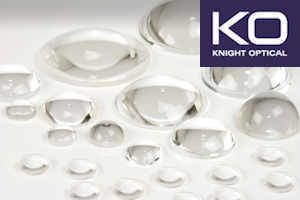 Knight Optical's Quality Assured Moulded Plastic Aspheric Lenses for Military Application
Knight Optical (USA) LLC
Aspheric Lenses are used to correct spherical aberration (where the converging light from a lens does not have a common focal point, resulting in a distorted image) in lasers and imaging. Traditional spherical lenses cannot collimate light effectively because even small angles of incidence can produce spherical aberrations. This can mean that several components may be required to get the desired result. The non-spherical surface of an aspheric lens allows a single component to effectively focus or collimate even highly divergent emissions, potentially replacing a multi-lens system with a single aspheric lens.

*Manufacturer's specifications subject to change without notice.
---
Knight Optical (USA) LLC is a global leader in the production and distribution of scientific optical components with a proven track record providing quality solutions to clients in the optics market. Our highly qualified and experienced workforce enables us to offer custom made solutions economically, in virtually any shape and size. Combining traditional methods with modern state-of-the-art systems and metrology equipment enables us to offer quality, competitiveness and prompt delivery schedules within 2 to 3 weeks from receipt of order.
View Products
Company Website