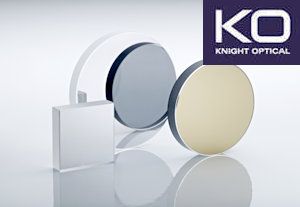 Knight Optical's Plane Mirrors for Laser Distance Measurements
Knight Optical (USA) LLC
Plane mirrors also known as front surface mirrors or first surface mirrors are used widely within Laser Distance Measurement applications. As stock we hold a number of general purpose, λ/1 and λ/4 with a range of up to 6 types of coatings such as Enhanced Aluminium, Ali/SiO2 and Ali/Mgf2. Our general purpose grade mirrors are made from good quality float glass and generally available in thicknesses of 1mm, 3mm and 6mm as standard. Laser Distance Measurement devices utilise the use of a laser beam to be able to determine the distance of an object.

*Manufacturer's specifications subject to change without notice.
---
Knight Optical (USA) LLC is a global leader in the production and distribution of scientific optical components with a proven track record providing quality solutions to clients in the optics market. Our highly qualified and experienced workforce enables us to offer custom made solutions economically, in virtually any shape and size. Combining traditional methods with modern state-of-the-art systems and metrology equipment enables us to offer quality, competitiveness and prompt delivery schedules within 2 to 3 weeks from receipt of order.
View Products
Company Website