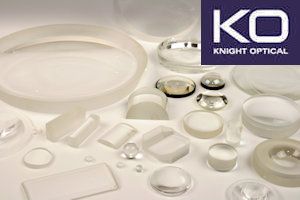 Knight Optical's Moulded Optics for Light Sensors
Knight Optical (USA) LLC
Moulded optics covers a wide range of different optical components and uses such as Fresnel Lenses for magnification or light diffusion as well as for use in light sensors. Light sensors are used to detect movement within a given area, and then activate a set of flood lights connected to the same circuit. These are most commonly used in the defense industry for home/workplace security, or to reduce power use by only lighting areas being used. This is done by monitoring the IR light being emit from objects within the sensor's field of view.

*Manufacturer's specifications subject to change without notice.
---
Knight Optical (USA) LLC is a global leader in the production and distribution of scientific optical components with a proven track record providing quality solutions to clients in the optics market. Our highly qualified and experienced workforce enables us to offer custom made solutions economically, in virtually any shape and size. Combining traditional methods with modern state-of-the-art systems and metrology equipment enables us to offer quality, competitiveness and prompt delivery schedules within 2 to 3 weeks from receipt of order.
View Products
Company Website