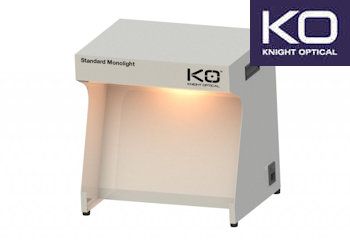 Knight Optical's Monochromatic light units for optical flats
Knight Optical (USA) LLC
Monochromatic lights have a low pressure sodium light source that emits monochromatic light in which rays have virtually the same wavelength.This light is a very effective way of viewing fringe patterns on the surface of optical flats (Newton rings) Knight Optical's standard type moonlight has a straight line engraved across the diffused screen enabling the operator to easily compare the straight lines of the component being tested thus identifying how flat the flatness is.

*Manufacturer's specifications subject to change without notice.
---
Knight Optical (USA) LLC is a global leader in the production and distribution of scientific optical components with a proven track record providing quality solutions to clients in the optics market. Our highly qualified and experienced workforce enables us to offer custom made solutions economically, in virtually any shape and size. Combining traditional methods with modern state-of-the-art systems and metrology equipment enables us to offer quality, competitiveness and prompt delivery schedules within 2 to 3 weeks from receipt of order.
View Products
Company Website