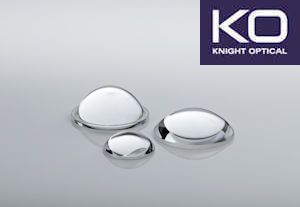 Knight Optical's Injection Moulded Aspheric Lenses for Virtual Reality Headsets
Knight Optical (USA) LLC
Knight Optical's injection moulded aspheric lenses can be found in Head Mounted Displays (HMDs) globally. Virtual Reality headsets are typically know as HMDs consist of a pair of lenses which typically forms an image directly into the eyes of the wearer. The lenses shape and focus the picture for each eye thus creating a stereoscopic 3D image. This used in conjunction with an accelerometer in the system allows for an immersive experience, where the wearer can feel like they are part of another reality.

*Manufacturer's specifications subject to change without notice.
---
Knight Optical (USA) LLC is a global leader in the production and distribution of scientific optical components with a proven track record providing quality solutions to clients in the optics market. Our highly qualified and experienced workforce enables us to offer custom made solutions economically, in virtually any shape and size. Combining traditional methods with modern state-of-the-art systems and metrology equipment enables us to offer quality, competitiveness and prompt delivery schedules within 2 to 3 weeks from receipt of order.
View Products
Company Website