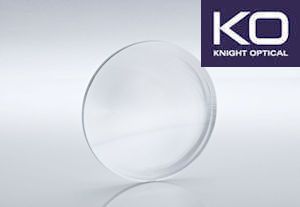 Knight Optical's Fresnel Lenses for Retinal Imaging
Knight Optical (USA) LLC
Our Fresnel Lenses consist of a flat surface with interspace concentric steps whereby each step corresponds to the surface of a conventional lenses. PMMA Acrylic is a preferred material type used for retinal imaging Fresnel lenses. The Fresnel lenses are used as part of a system where its multi-focal length provide a multiple in and out of focus image that provide a magnified image of the eye. For more info read datasheet

*Manufacturer's specifications subject to change without notice.
---
Knight Optical (USA) LLC is a global leader in the production and distribution of scientific optical components with a proven track record providing quality solutions to clients in the optics market. Our highly qualified and experienced workforce enables us to offer custom made solutions economically, in virtually any shape and size. Combining traditional methods with modern state-of-the-art systems and metrology equipment enables us to offer quality, competitiveness and prompt delivery schedules within 2 to 3 weeks from receipt of order.
View Products
Company Website