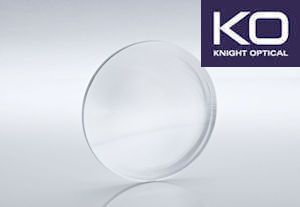 Knight Optical's Fresnel Lenses for Magnification Displays
Knight Optical (USA) LLC
Knight Optical can also provide provide Fresnel lenses in dome shapes and with a curvature i.e. meniscus shape. In fact lenses can be provided of a curved shape, which when assembled in a frame forms a larger lens which could not be produced as a monolithic component. We stock range of fresnel lenses range from 5mm to 650mm aperture and contains both standard and precision ranges of fresnel lenses. The precision range has tighter tolerances with improved surface quality. These ranges are uncoated however antireflective coatings can be applied at short notice. Read more details on Datasheet

*Manufacturer's specifications subject to change without notice.
---
Knight Optical (USA) LLC is a global leader in the production and distribution of scientific optical components with a proven track record providing quality solutions to clients in the optics market. Our highly qualified and experienced workforce enables us to offer custom made solutions economically, in virtually any shape and size. Combining traditional methods with modern state-of-the-art systems and metrology equipment enables us to offer quality, competitiveness and prompt delivery schedules within 2 to 3 weeks from receipt of order.
View Products
Company Website