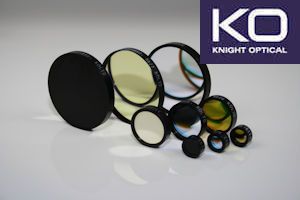 Knight Optical's Custom Infra-red Gas Cells
Knight Optical (USA) LLC
Knight optical offers a broad variety of gas transmission cells are available for the analysis of gas & vapour phase components in infrared optical spectroscopy. These range from short path length gas cells for percent level concentration measurement, to long path length gas cells for part-per-billion concentrations. Options include fixed and variable path length gas cells. The windows that can be used with the gas cell include NaCl, KBr, CaF2, BaF2, or ZnSe infrared transmission windows, which are mounted in an optical spectrometer.

*Manufacturer's specifications subject to change without notice.
---
Knight Optical (USA) LLC is a global leader in the production and distribution of scientific optical components with a proven track record providing quality solutions to clients in the optics market. Our highly qualified and experienced workforce enables us to offer custom made solutions economically, in virtually any shape and size. Combining traditional methods with modern state-of-the-art systems and metrology equipment enables us to offer quality, competitiveness and prompt delivery schedules within 2 to 3 weeks from receipt of order.
View Products
Company Website