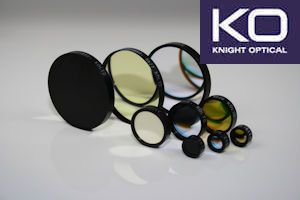 Knight Optical's custom Infra-red interference band pass filters
Knight Optical (USA) LLC
The range of custom optical filters includes: Interference bandpass filters comprise; narrow pass, standard pass, wide pass, and Filter sets. These filters are made using IR substrates such as silicon, sapphire, germanium etc with thin films of material that have differing refractive indices and thickness. The filters are usually used on-axis as a difference in angle from zero will increase the path length of the rays through the filter. This has the effect of moving the pass band toward longer wavelengths.

*Manufacturer's specifications subject to change without notice.
---
Knight Optical (USA) LLC is a global leader in the production and distribution of scientific optical components with a proven track record providing quality solutions to clients in the optics market. Our highly qualified and experienced workforce enables us to offer custom made solutions economically, in virtually any shape and size. Combining traditional methods with modern state-of-the-art systems and metrology equipment enables us to offer quality, competitiveness and prompt delivery schedules within 2 to 3 weeks from receipt of order.
View Products
Company Website