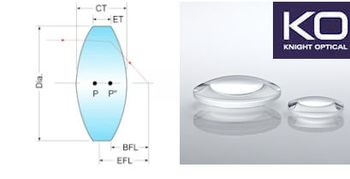 Knight Optical's BK7 stock and custom biconvex lenses
Knight Optical (USA) LLC
Biconvex lenses are one of the most simple lenses, but good quality, glass lenses with both faces convex and spherical. Biconvex lenses are widely used for moderate quality imaging and also for focussing and control of laser beams. Generally biconvex lenses have both surfaces with the same curvature. Knight Optical's stock range of quality grade N-BK7 or equivalent biconvex lenses are available uncoated or broadband AR coated for visible through to NIR applications. Knight optical also offers custom biconvex lenses to meet your requirements or alternatively edge stock lenses for a quick turnaround.

*Manufacturer's specifications subject to change without notice.
---
Knight Optical (USA) LLC is a global leader in the production and distribution of scientific optical components with a proven track record providing quality solutions to clients in the optics market. Our highly qualified and experienced workforce enables us to offer custom made solutions economically, in virtually any shape and size. Combining traditional methods with modern state-of-the-art systems and metrology equipment enables us to offer quality, competitiveness and prompt delivery schedules within 2 to 3 weeks from receipt of order.
View Products
Company Website