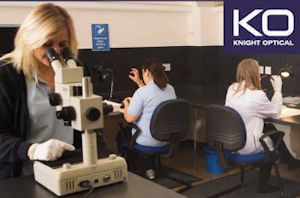 Knight Optical thermal imaging coatings are Diamond !
Knight Optical (USA) LLC
Thermal imaging uses infrared materials such as Germanium and Silicon, however in there raw form the transmission is not the best it could be. For example, Germanium typically transmits at <45% but with an AR coating applied, it can improve transmission to >60%. This increase in transmission means that the camera sensor receives a better signal through the protective window. Also with protective windows, we can provide high quality DLC coatings. We ensure the coating is Salt Fog Tested to MIL-SPEC standard to ensure that the coating withstands harsh environments

*Manufacturer's specifications subject to change without notice.
---
Knight Optical (USA) LLC is a global leader in the production and distribution of scientific optical components with a proven track record providing quality solutions to clients in the optics market. Our highly qualified and experienced workforce enables us to offer custom made solutions economically, in virtually any shape and size. Combining traditional methods with modern state-of-the-art systems and metrology equipment enables us to offer quality, competitiveness and prompt delivery schedules within 2 to 3 weeks from receipt of order.
View Products
Company Website