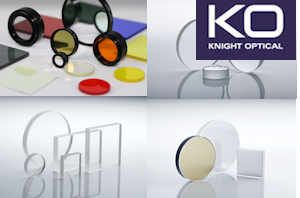 Knight Optical offers a comprehensive range of optics for LiDAR applications call today
Knight Optical (USA) LLC
Knight Optical provide custom and stock precision optical components for the latest LiDAR systems. Our components are utilized in atmospheric monitoring, topographical, laser guiding and ranging instruments used in the harshest environments. These include high grit and sand levels and extreme temperatures in arctic and desert climates. Knight Optical's offer the following optics for Lidar Applications: Front Coated Mirrors, Cover windows, Optical filters, Lenses Contact our technical sales team to discover how Knight Optical's high quality Lidar optics and superior service can improve your instrumentation and supply chain experience.

*Manufacturer's specifications subject to change without notice.
---
Knight Optical (USA) LLC is a global leader in the production and distribution of scientific optical components with a proven track record providing quality solutions to clients in the optics market. Our highly qualified and experienced workforce enables us to offer custom made solutions economically, in virtually any shape and size. Combining traditional methods with modern state-of-the-art systems and metrology equipment enables us to offer quality, competitiveness and prompt delivery schedules within 2 to 3 weeks from receipt of order.
View Products
Company Website