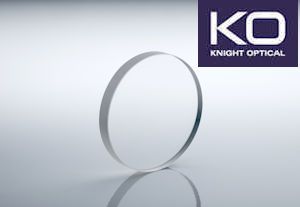 Knight Optical Calcium Fluoride Windows, Lenses and Prisms
Knight Optical (USA) LLC
Calcium Fluoride can be used for many applications, including vacuum ultra violet, ultra violet and infrared thermal imaging. Calcium fluoride is traditionally used in apochromatic design to reduce light dispersion in lenses, both in cameras , telescopes, and has uses in the oil and gas industry as a component in detectors, spectrometers. Primarily used in spectroscopic windows, as well as in thermal imaging and other systems where high transmission between 0.2µm and 8µm is required, calcium fluoride is attacked by few reagents and offers a low absorption coefficient and high damage threshold, beneficial in its use in excimer laser systems

*Manufacturer's specifications subject to change without notice.
---
Knight Optical (USA) LLC is a global leader in the production and distribution of scientific optical components with a proven track record providing quality solutions to clients in the optics market. Our highly qualified and experienced workforce enables us to offer custom made solutions economically, in virtually any shape and size. Combining traditional methods with modern state-of-the-art systems and metrology equipment enables us to offer quality, competitiveness and prompt delivery schedules within 2 to 3 weeks from receipt of order.
View Products
Company Website