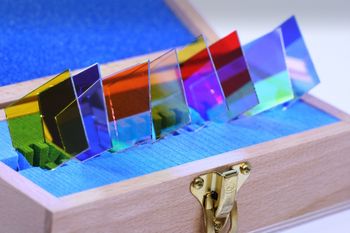 Dichroic Filters for Scientific Instruments and Stage and Entertainment Lighting.
Knight Optical (USA) LLC
Dichroic filters have a hard dielectric coating and are designed to offer high transmission over a specific wavelength while reflecting all other wavelengths. Dichroic filters offer superior contrast between transmitted and reflected wavelengths and have negligible absorption. They are perfect for high power applications and do not show the strong fluorescence of certain glass filters. Diameters up to 425mm. Over 160 types to chose from. All of our Dichroic Filters are checked for quality in our Metrology laboratory.

*Manufacturer's specifications subject to change without notice.
---
Knight Optical (USA) LLC is a global leader in the production and distribution of scientific optical components with a proven track record providing quality solutions to clients in the optics market. Our highly qualified and experienced workforce enables us to offer custom made solutions economically, in virtually any shape and size. Combining traditional methods with modern state-of-the-art systems and metrology equipment enables us to offer quality, competitiveness and prompt delivery schedules within 2 to 3 weeks from receipt of order.
View Products
Company Website