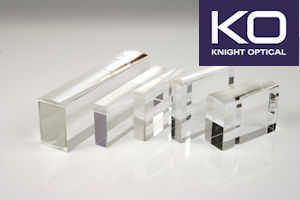 Custom QA Light Guides from Knight Optical (USA) LLC
Knight Optical (USA) LLC
Knight Optical's ranges of custom light guides are available in a variety of materials. Currently we offer BK7 or equivalent, Sapphire or equivalent and UV Fused Silica light guides, in an assortment of diameters & thicknesses They offer high internal reflection to minimize the loss of transmitted light. BK7 or equivalent can offer over 90% transmission between 330 and 2000nm, which makes this material excellent choice for IPL applications used to treat pigmentation, as the peak absorption of the human pigment melanin is 335nm. BK7 or equivalent is also recommended for its high homogeneity and low bubble and inclusion content.

*Manufacturer's specifications subject to change without notice.
---
Knight Optical (USA) LLC is a global leader in the production and distribution of scientific optical components with a proven track record providing quality solutions to clients in the optics market. Our highly qualified and experienced workforce enables us to offer custom made solutions economically, in virtually any shape and size. Combining traditional methods with modern state-of-the-art systems and metrology equipment enables us to offer quality, competitiveness and prompt delivery schedules within 2 to 3 weeks from receipt of order.
View Products
Company Website