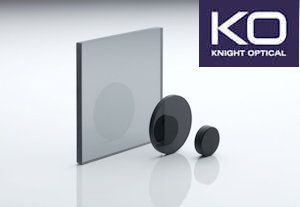 Absorptive glass neutral density filters
Knight Optical (USA) LLC
Glass Neutral Density filters attenuate light by absorption just like the gelatine neutral density filters. Glass ND Filters are more robust and tend to have more uniform absorption characteristics. They also attenuate by absorption and so care must be taken to avoid overheating. Attenuation is achieved by polishing glass to the correct thickness. Knight Optical offers stock absorptive ND filters in 12.5mm and 25mm diameters, and 50x50mm squares manufactured from high quality glass. Each filter is available with blocking between 0.1 and 4.0 OD and are available to purchase direct from this page More info read data sheet

*Manufacturer's specifications subject to change without notice.
---
Knight Optical (USA) LLC is a global leader in the production and distribution of scientific optical components with a proven track record providing quality solutions to clients in the optics market. Our highly qualified and experienced workforce enables us to offer custom made solutions economically, in virtually any shape and size. Combining traditional methods with modern state-of-the-art systems and metrology equipment enables us to offer quality, competitiveness and prompt delivery schedules within 2 to 3 weeks from receipt of order.
View Products
Company Website